A Real-Time Audience Feedback Tool to Engage with Political Debates 
Social media have multiplied the channels of sensory streams available to the public audience of political debates. But is this new "participation experience" truly informative? Do social media voices really capture the richness of citizens' reactions while they are watching the political debates? 
The Democratic Reflection app is a new tool to actively involve the audience and make the televised debate experience more engaging and informative. The App allows to gather people feedbacks to the debate by asking them to press some digital cards who represent reflective statements on their viewing experience.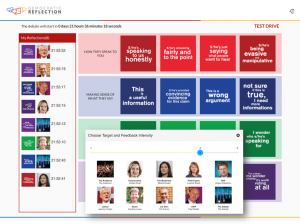 Enabling real time viewers' feedback with the Democratic Reflection App has three main objectives:
– promoting active engagement by enabling the audience to react to the
televised debates in new non-intrusive, yet expressive, and timely manner;
– harnessing and analysing viewers' reactions to better understand the audience
and their debate experience;
– providing new metrics to assess the debate as media event in terms of its
capability to engage the audience emotionally, intellectually, critically and democratically.
The App was previously tested in the 2015 Election Debates and it has now been improved following users'  comments and requests. This has hopefully helped us to develop a tool that replies to real citizens' needs and provide an experience that is enjoyable and useful to everyone taking part to the debate. 
If you are interested to interact with the televised political debate in new ways, if you'd like to learn more on how you reacted to the speakers and the arguments you are going to witness, if you'd like to have insights on the televised debate as a collective democratic event, just take part to this experiment!
What you need is just a smartphone, tablet or laptop, then go to the URL: democratireflection.org and sign up to Democratic Reflection.
Then sit back and watch the the BBCOne Leaders' debate with the App ready to record your feedback.
After that you will be able to explore your personal and collective analytics to understand more about your experience and the one of other people watching the debate with you. 
Looking forward to see your feedback online!
Anna De Liddo & The EDV team!